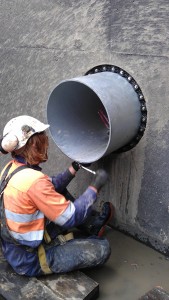 There are various reasons why the Link-Seal® modular seal is the only option when it comes to pipe-penetration seals. Included among the many benefits of this modular seal are enhanced corrosion protection, fast and easy installation and a long seal life.
Link-Seal® Modular Seals
Link-Seal® are based on a special, patented modular-seal design. The Link-Seals are a positive hydrostatic seal that can be used to seal any cylindrical object passing through barriers such as walls, ceilings, and floors, and can be installed onto pipes made from concrete, metal, ductile iron, plastic etc.

Product Features and Advantages
Durability – These anti-corrosive seals have been designed to be highly durable. They provide high performance outcomes even when exposed to hostile environments, extreme temperatures or harsh elements such as UV, ozone, water, hydrocarbons, and a variety of aggressive chemicals.
High Performance – Link-Seal® modular seals have been rated to 5 bar (500KpA), which makes it one of the best performing  penetration seals in the market offering maximum corrosion protection.
Long Seal Life and Cost Savings – Link-Seals are a permanent seal with extended working live, offering users longevity as well as value for money.
No Maintenance – The durability and robust design of Link-Seal® modular seals has resulted in a product that requires no post-installation maintenance. Once these seals have been installed, there is no need for any type of ongoing maintenance.
Special Usage – Typical applications include thermal storage systems and offshore oil rigs to waste and water treatment. However, Link-Seal® seals are also available for special applications. These special seals can withstand extremes of temperature, unique chemical combinations or out-of-round/non-centred applications. Oil-resistant, temperature-resistant and fire-resistant models are also available.
Configuration Options – Link-Seal® modular seals can be configured to match a specific application. They are available in 17 sizes (for pipes ranging from 10 mm to 3.6 m in diameter) and a range of materials pending on the requirements of the installation.
Adjustment and Re-fitting – Link-Seals are a mechanical seal and can be adjusted and re-fitted if required or reinstalled on new pipes of the same size.
Easy Installation – The Link-Seal® modular seal is ready for immediate use after Installation. No special equipment or tools are required to install, one person installation using hand wrench. Link-Seals have reduced installation times by as much as 75% when compared with those associated with lead-oakum joints, hand-fitted flashings, mastics or casing boots.
Quality Assured – These seals come with a range of certification and approvals and are manufactured in ISO 9001:2000-certified facilities