What is Cosmofin Waterproofing Membrane?
Meet Australian Standard
4654.1 & 4858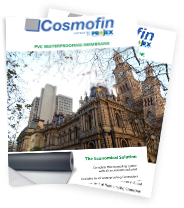 Download Now
Cosmofin waterproofing membrane is a reinforced high quality flexible PVC (Poly Vinyl Chloride) single ply sheet membrane that is manufactured in Germany by Wolfin membranes & complies with the Australian Standard for waterproofing membrane materials AS 4654.1 – 2012. Cosmofin FG LL also complies to AS 4858 for Internal and Wet Areas.
It is environmentally friendly, recyclable, UV Stable & has been widely used in Australia for over 23 years on a range of commercial & residential projects such as:
Schools/universities
Private residences
Apartments/units
Retail developments
Hospitals
Factories & warehouses
Offices
Cosmofin membrane is suitable for
waterproofing
flat roofs, balconies, terraces, podium slabs, under tile & paver applications, retaining walls, planter boxes etc.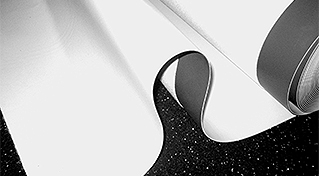 The Cosmofin membranes are 1.5mm thick, light grey and available with or without fleece backing allowing for all types of installation including bonded, loose laid, ballasted or mechanically fastened applications.
All waterproofing contractors, waterproofing applicators or waterproofing specialists can install Cosmofin Membrane System.
The Complete Cosmofin System
The Cosmofin range has been manufactured & designed as a full ancillary system incorporating all it's own components integrated with the membrane to ensure total compatibility and provide the complete waterproofing system.
Cosmofin Membranes
| COSMOFIN FG LL | COSMOFIN FG LLV | COSMOFIN F |
| --- | --- | --- |
| Reinforced membrane | Reinforced membrane with fleece backing | Unreinforced detailing/closer strip membrane |
| 1.5mm thick | 1.5mm thick | 1.5mm thick |
| The side edges sealed beyond the reinforcement | The side edges sealed beyond the reinforcement | Unreinforced |
| Generally for loose laid applications | Ideal for bonded and/or loose laid applications | Used in detailing around pipes penetrations |
| | Can be laid directly over bitumen | Can be solvent welded directly to PVC |
| Roll size: 1.65m x 20m long | Roll size: 1.65m x 15m long | Roll size: 1m x 20m long |
| Colours : light grey | Colours : light grey | Colours : light grey |
Ancillary Components of the Cosmofin System:
COSMOFINSTEEL – 24 gge galvanised steel with membrane factory bonded to one side. Five standard profiles shapes are always available in stock and specials are made to order.
COSMOFIN LIQUID – Used to seal laps on cut sheets to close reinforcement ends. Package size: 1L tins.
TK 400 STRIP BONDING ADHESIVE -The recommended adhesive for strip bonding of Cosmofin LLV to most substrates where adhering is required. TK 400 can be installed over existing membranes, damp substrates and is applied using 60cm Lance Applicating Gun.
COSMOFIN CORNERS – Preformed internal and external corners for a tighter neater look. The Cosmofin Membrane welds directly to the corners.
WOLFINATOR – Wolfinator is a structural grade adhesive that has been specially formulated for the bonding of Cosmofinsteel to absorbent & non-absorbent substrates including metals, ceramics, timber, glass, etc. It will also adhere to slightly damp substrates.
THF – Tetrahydrafuran cold welding solvent, for cold welding overlaps & connection of the membrane to PVC pipes.
UNIVERSAL PINS – The Universal Pins are the solution for fastening items directly to the Cosmofin Membrane without piercing the membrane itself. The product has an 80mm diameter base plate, which is made of Wolfin membrane (with a protruding 25mm vertical threaded bar and locking nuts) and is welded directly to the Cosmofin membrane for the securing of ballast retainers etc.
PROJEX NON-SLIP WALKWAY – Projex Walkway Matting is a permanent non-slip solution that is welded directly to the Cosmofin membrane system. This special mat is used to create safe walking paths in places where it is needed. If necessary, it can also be installed across the entire waterproofing application to achieve a total non-slip finish. Projex walkway matting provides excellent anti-skid properties for pedestrians as well as adding extra protection to the membrane in these high traffic areas. The product is dark grey and comes in roll of 15m long x 1.06mm wide. It is easy to install. Simply align, unroll and hot air weld it to the waterproofing membrane.
Pre-Made Floor Drains – Renovation Element DN70 & DN100
Description

Drain supplied in two different sizes:

To fit existing 70mm drain pipe

To fit existing 100m drain pipe

Come with a removable wire leaf guard and roll rings
Stainless Steel pipe length 300mm
Wolfin PVC membrane flange 350mm wide
Pre-Made Floor Drain – Extention Element DN125
Description

Drain including leaf stop (no roll ring)
Can be installed directly in core hole
Pipe diameter is 125mm
Stainless Steel pipe length 300mm
Wolfin PVC membrane flange 350mm wide
Gravel Stop Cover
Description

Can be installed on all our pre-made drains (DN70, DN100, DN125)
One Size Fits All – Trap Basket
Made of Stainless Steel
195mm x 195mm x 38mm
Spitter / Overflow Drain / Rainspout DN50
Description

The overflow drain is well-suited to drain balconies and critical areas
Stainless Steel pipe length 500mm
Pipe diameter 50mm
Wolfin PVC membrane flange
***All the drains are offered in Wolfin black but can be used with Cosmofin. If the colour is a concern, the flange can be painted or alternatively covered with Cosmofin membrane to suit the requirements. ***
Benefits in using Cosmofin Waterproofing System:
Manufactured & engineered in Germany
Meet Australian Standards AS 4654.1 & AS 4858
Can be installed over damp substrates
Can be used in new & remedial applications
Excellent stockholding in Australia
UV stable
Hot air welded overlaps/connections
Customised foam adhesive (LLV) for bonding
Plant roots resistant (FLL tested & Din En 13948)
High puncture & impact resistance
Recyclable
Excellent dimensional stability
Welds directly to PVC pipes
Complete ancillary system
5 x standard profiles available-Specials made to order
Hot Air & Solvent Weldable
Free of Toxins and Heavy Metals
Can be strip bonded, loose laid or mechanically fastened
Safe in Permanently Wet Areas
Acid, Alkali & Micro-organism Resistant
Why Waterproofers like working with Cosmofin?
One of the main reasons Waterproofing Contractors prefer the Cosmofin Membrane System is that it's supplied as a full ancillary package including 3 versions of the Cosmofin Membrane (F, FG LL & FG LLV), factory bonded profiles, pre-made corners, welding solvent for connecting directly to PVC pipes & is manufactured in Europe. It is supplied as a full complete system.
Cosmofin Membranes can be installed over most substrates including damp, can be bonded or loose-laid & are backed by Projex Group offering full support & service with all installations.