What is Wolfin Waterproofing Membrane?
Meet Australian Standards
4654.1 & 4858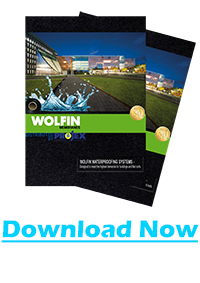 Manufactured in Germany, Wolfin Waterproofing Systems consist of single ply high polymer roofing & waterproofing sheet membranes that are environmentally friendly, recyclable and UV Stable.
Wolfin waterproofing membranes are available in two versions: Loose-Laid (IB) and Bonded (GWSK).
Wolfin membranes comply with the Australian Standard (AS 4654.1 – 2012) for waterproofing materials and Wolfin IB also complies to Australian Standard (AS 4858) for Internal and Wet Areas.
The membranes are a unique combination of Polyester/PVC, which exhibit excellent characteristics including:
excellent chemical resistance
up to 350% elongation
bitumen compatible
root resistant-tested
For more than five decades Wolfin membranes has counted among the leading manufacturers of waterproofing systems worldwide. The formulation has remained unchanged through this time & is regulated and monitored by external institutes to ensure it meets both European PVC standards and the Australian Standard for waterproofing membrane materials (AS4654.1-2012) and waterproofing design & installation (AS4654.2-2012).
The Wolfin Membrane system comprises of a single layer homogenous/uniform (non laminated) sheet membrane, combined with factory bonded steel profiles, cast in reglets, pre-made corners & PVC welding solvent to create "The Complete Waterproofing System".
All Wolfin products are designed to meet the highest demands for buildings and provide maximum long-term water protection for the structure.  Wolfin has been extensively used in Australia since the late 1980's & covered millions of square metres in all climatic zones of our planet.
Wolfin Membranes have been regularly used for the waterproofing of Residential, Commercial & Industrial applications including:
Planter Boxes
Roofs, Green Roofs & Landscaped Areas (FLL Certified)
Balconies
Decks
Podium Slabs
Terraces
Basements
Lift Pits
Potable Water Tanks
Detention, Retention, Header & Dump Tanks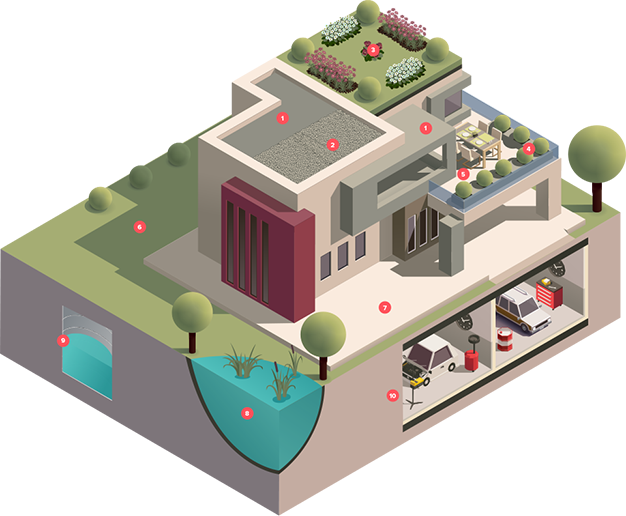 Wolfin waterproofing membranes are suitable for most applied finishes to be installed over them including tiles, wearing slabs, pavers on pads, landscaped areas, etc.
Wolfin membranes can be applied to most substrates including concrete, timber, steel, CFC, masonry blockwork etc.  Wolfin can be installed over damp substrates.   All junctions & overlaps of the membrane are hot air welded, UV stable, suitable for recycling and have exceptional chemical resistance.
Every Wolfin installation is inspected & signed off by Wolfin Membranes Australia resulting in a Single Point Warranty on Labour & Materials issued to the building owner.
Wolfin Membrane Products
Wolfin Membranes

Wolfin IB
Wolfin GWSK
(unreinforced) 1.5 mm
(reinforced, self-adhesive) 2.3mm

Standard general-purpose waterproofing membrane
Used for new and retrofit roofing, tanking and liquid containment applications
Allows most existing failed materials to stay
Loose Laid

Bonded membrane with powerful, butyl-modified bitumen adhesive backing
Preferred waterproofing membranes for horizontal works in domestic, commercial and civil construction including bridge waterproofing and suitable under asphalt toppings.

Colours : light grey or black
Colours : light grey or black
The Complete Wolfin System:

Wolfinsteel Profiles:

Profiles are used to terminate & secure the membrane.
They are welded directly to the membrane & all fixings are encapsulated.
The Wolfinsteel Profiles are available in 5 standard shapes off the shelf or it can also be custom made as required.
The profiles are available in Light Grey or Black & can be painted if required.
24 gge galvanised steel with 0.8 mm layer of Wolfin Membrane factory bonded to one side and available in 2m lengths.

316L Wolfinsteel Profiles:

This is the same as the Wolfinsteel above but the steel used is 316L Low-Carbon Stainless Steel.
This variant of the Wolfinsteel is used where there are particularly severe corrosion/chemical issues.
The Stainless Steel Profiles are only offered in Black.

Wolfin AF6

An extruded section of Wolfin IB, which is placed onto the formwork & cast into the concrete.
The AF6 is a cast in termination for the membrane which also acts as a waterstop.
Can be used in footings, hobs etc.

Wolfin Corners

Preformed Internal and External corners for a tighter neater look.
The Wolfin membrane welds direct to the corners.

Wolfinator Adhesive:

Wolfinator is a structural grade adhesive
It has been specially formulated for the bonding of Wolfinsteel to non-absorbent substrates including metals, ceramics, glass, etc.
It will also adhere to slightly damp substrates.

Universal Pins

The Universal Pins are the solution for fastening items directly to the Wolfin Membrane without piercing the membrane itself.
The pin has an 80mm diameter base plate, which is made of Wolfin membrane
It also have a protruding 25mm vertical threaded bar and locking nuts
Can be welded directly to any Wolfin membrane system.

THF:

Tetrahydrafuran cold welding solvent, for cold welding membrane overlaps & membrane connections to PVC pipes.

Projex Non-Slip Walkway

Projex Walkway Matting is a permanent non-slip solution, that is welded directly to the Wolfin membrane system.
This special mat is used to create safe walking paths in places where it is needed.
If necessary, it can be installed across the entire waterproofing application to achieve a total non-slip finish.
Projex walkway matting provides excellent anti-skid properties for pedestrians.
It also add extra protection to the membrane in high traffic areas.
The product is dark grey and comes in roll of 15m long x 1.06mm wide.
It is easy to install. Simply align, unroll and hot air weld it to the waterproofing membrane.

Wolfin Floor Drain – Renovation Element DN70 and DN100

The pre-made renovation floor drain outlets are supplied in two different sizes

To fit existing 70mm drain pipe (DN70)
To fit existing 100mm drain pipe (DN100)

Drain supplied with leaf stop and roll rings
Stainless Steel pipe length 300mm
Wolfin PVC membrane flange 350mm wide

Wolfin Floor Drain – Extension Element DN125

The pre-made extension floor drain outlets has a pipe diameter of 125mm
Drain supplied with leaf stop (no roll ring)
Can be installed directly in core hole
Wolfin PVC membrane flange 350mm wide
Stainless Steel pipe length 300mm

Gravel Stop Basket

The gravel stop cover can be installed on all our pre-made drains (DN70, DN100, DN125)
Is made of stainless steel
One Size Fits All – Trap Basket
Dimensions 195mm x 195mm x 38mm

Spitter / Overflow Drain / Rainspout DN50

The overflow drain is particularly well-suited to drain balconies and critical areas
Stainless Steel pipe length 500mm
Pipe diameter 50mm
***All the drains are offered in Wolfin black but can be used with Wolfin Grey or Cosmofin. If the colour is a concern, the flange can be painted or alternatively covered with the right coloured membrane to suit the requirements. ***
Benefits in using the Wolfin Waterproofing System:
Single Point Warranty (Labour & Materials)
AS 4654.1 and AS 4858 Compliant
Suitable for installation over most substrates
Free of Toxins and Heavy Metals
Superior Chemical Resistance
Only installed by Trained and Accredited Wolfin Applicators
Manufactured in Germany
Complete Ancillary System
Plant Root Resistant – Certified Root Proof (FLL Tested & DIN EN 13948)
Hot Air Welded Overlaps/Connections
Service Temperature Range -25C – +85C
Can be applied directly over failed membranes incl. Bitumen
Suitable for New & Remedial Applications
Up to 350% Elongation
UV Stable-Suitable for Exposed Roofdecks
High Tear Strength
Proven Long-Life (> 30 years)
100% Recyclable / Eco-friendly
Why Architects Prefer Wolfin?
Wolfin Waterproofing Membrane is the preferred trusted system to meet high standard designs and provide long-term protection to the structures.
When specifying the Wolfin Waterproofing system, architects get access to the highest quality of service including design, specification, job specific detail drawings and on site support.
Wolfin Membrane is only installed by Trained & Accredited Licensed Wolfin Applicators
Wolfin Waterproofing system comes with an unrivalled single point warranty on both Labour and Materials issued by Wolfin Membranes Australia Pty Ltd.
Every Wolfin installation is inspected and certified.