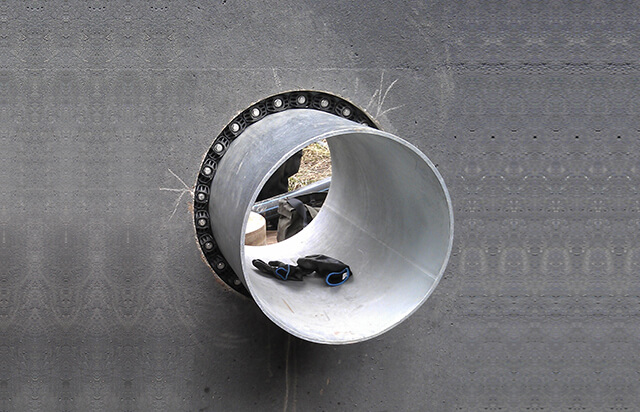 LinkSeal is a quick-installation, leak-proof permanent Modular Seal suited to a range of industrial and commercial applications. LinkSeal is configurable to withstand water and oil-based substances (including motor oil, jet fuel, and hydraulic fluid), as well as extreme temperatures on either side of the thermometer, and boasts a pounds-per-square-inch gauge of 20. LinkSeal represents the absolute premiere solution for pipe seals in virtually all industrial applications.

If you're looking for a piece of equipment that is;
Easy to use
Quick to install
Suitable for permanent sealing solutions in situations with minimal (or no) upkeep potential
Suited to the harshest of environments and against the harshest of substances
Has the flexibility for re-use combined with the security of permanent fitting
Then LinkSeal is the choice product for your jobsite, whether you're building an oil-rig, a kitchen, or a pump station.
High durability and a long life
LinkSeal has an impressive list of specification standards backing it up. It's a positive hydrostatic seal rated to 5 Bar (500 KpA), and is certified well above industry specifications for fire, UV and ozone, hydrocarbons, and corrosion.
The seals are rated as a permanent sealant solution, with no need for continual maintenance post-installation. Instead, simply configuring the LinkSeal specifications and installing correctly will keep your pipes clean from any contaminants or backfill that may continue to accrue around it.
There are three main specifications of LinkSeal, primarily factored around the type of substances that they're required to seal within and without:
Silicon Model 'T'
The Model T is fire and heat proof to a temperature of 204C400F, and can simultaneously provide a permanent hydrostatic seal against oil and water.
Nitrile Model 'O-S316'
The O-S316 Nitrile model is best deployed against oil-based liquids and solvents, such as motor fuel, jet fuel, hydraulic fluid, methane, water, and kerosene. A combination of Nitrile and stainless steel makes it extremely resistant to corrosion, although it should not be installed within UV-rich environments.
Low-durometer EPDM Model 'L'
This model excels in fragile environments where any excess force or pressure may rupture surroundings. It's especially applicable to metal, ceramic, glass, or plastic wall pipes.
EPDM Model 'C'
Chemical processing and wastewater treatment are the primary solutions that call for a Model C. Providing electrical isolation where cathodic protection is required, and resistant to most inorganic acids (as well as some organic chemicals such as alcohols, acetone, and ketones), the combination of stainless steel and EPDM make it perfect for high atmospheric conditions and water burial.
All systems come with full Quality Assurance, are fully certified and approved to surpass Australian safety standards with ease, and are manufactured in ISO 9001:2000 certified facilities.
Ease of use, ease of installation
The greatest advantage of using LinkSeal for large jobs is the speed and ease by which the entirety of the pipe sealing process can be achieved. LinkSeal is easy to install (amazingly easy, in fact) and can be completed in a small portion of the time that a conventional permanent sealing solution installed using basic hand tools would take.
In fact, compared to pipe seals using lead-oakum, casting boots, mastics, or hand-fitted flashings, LinkSeal can be installed in up to 75% faster speeds, and boasts the added benefit of being entirely re-useable on pipes of the same size.
The installation process is simple; in slightly simplified terms, all one has to do is tighten the individual links on the seal belt after fastening it into the annular space between the pipe and wall. Four turns a bolt, two to three passes around at best, and you've successfully guaranteed a permanent sealing solution for your product.
They're also fully available to use with our full range of Sleeves, including Century-Line Sleeves, Steel Sleeves, External Divided Sleeves, and Cell-Cast Interlocking Hole Forming Discs. As an added consideration, they can also be installed directly into core penetrations.
Useful in a huge range of applications
The LinkSeal is used in construction and commercial sites around the globe, from regular commercial applications to heavy-duty, high risk and maximum safety zones. As a commercial product, it's used to seal pool, sewerage, electrical, and refrigeration piping. On a larger scale, it's been used on offshore oil rigs, bridge construction, mining, telecommunications, and tunneling operations.
With the sheer malleability for use in any jobsite, and ability to work for as long (due to the permanent possibility of sealing) or short (due to the ease of removal and replacement when required) as you desire, it's no surprise that LinkSeal is viewed above and beyond its competitors.
We've written two case studies showing the use of Link-Seal in a new building development:
Give Projex a call if you're interested in the simplicity and absolute protection of LinkSeal hydrostatic pipe sealing. We can talk you through sizing and potential applications, as well as the model and specifications that you'll need to ensure that your site is safe and secure permanently.
If you'd like to contact us online, you can call Projex at 02 8336 1666 during business hours, or use our online form.