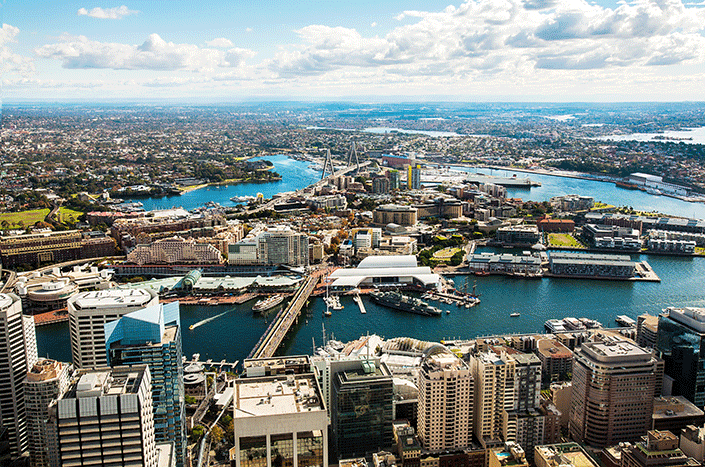 Most of the Aussie population lives around the coast, and it's a great lifestyle with numerous benefits. But building by the sea can also have its drawbacks, with wild weather and constant exposure to ocean spray inevitably leading to damage and deterioration over time.
Waterproofing in a coastal or harbour environment requires a waterproofing system that will resist the harsh weather conditions associated with these areas, including the highly aggressive and damaging effects of salt.
The effects of salt
Salt can do a lot of damage to a seaside structure over time. It can:
Penetrate concrete and cause 'concrete cancer' (spalling), particularly in balconies. When left untreated, balcony failure can occur. It can also eat into the metal reinforcements inside concrete architecture, which can lead to weakness and structural instability.
Deteriorate mortar and cause surface delamination of brickwork, which can lead to downward stacking of the bricks, and eventual collapse of the external walls.
Deteriorate terracotta roof tiles to varying degrees, and can rust and deteriorate wall ties securing the external brickwork to a building, allowing it to bow out and eventually collapse.
Cause the delignification of structural timbers, breaking down the cells and creating a furry finish on the outside. If left untreated, this can lead to roof collapse.
A Projex case study
The Wolfin Sheet Membrane System has recently been installed to rectify roof membrane failures at the Watsons Bay Hotel in Sydney and a residential property in the Central Coast's Blue Bay. Both these properties sit adjacent to the water, and the existing membranes were severely compromised by the salt environment and UV exposure.
The Wolfin Sheet Membrane System exhibits outstanding chemical and UV resistance in such installations, including resistance to salt. The marine grade 316L stainless steel profiles used for terminating the system ensure the required longevity and durability of the waterproofing in these harsh environments.
As with all Wolfin installations, the works were inspected upon completion by Wolfin Membranes AUstralia, who issued a single-point labour and materials warranty.
About the Wolfin system
Manufactured in Germany, Wolfin is a flexible polyester PVC sheeting that is waterproof, UV stable, chemical resistant, and can be applied to concrete, timber, steel, CFC, masonry blockwork, and other substrates.
It is regularly used in the waterproofing of balconies, roofs, decks, podium slabs, terraces, planter boxes, basements, lift pits, water tanks, fountains, and anywhere that waterproofing is needed on residential or commercial buildings. It has also been tested and certified for use in roof membrane installations for garden and planter box applications, as the roof membrane can be subjected to extreme conditions and temperatures.
As with the Watsons Bay and Blue Bay projects, termination designs are specific for each project, and applicators are subject to tight workmanship supervision and thorough final inspections.
Other notable projects
The Wolfin waterproofing system has been used in a number of notable locations around Sydney and Australia, including:
Royal North Shore Hospital – Installed over the electrical and plant areas on the emergency and main ambulance driveway,
Award-winning Surry Hills Library – Used under their energy-efficient green roof of soil and plants,
National Library in Canberra – Used to prevent water leaking into library areas below during the refurbishment of the podium slab,
Conservatorium of Music – Used to waterproof the 12,000 sqm of gardens and landscaping on the flat roof structures, and
Sydney University's Faculty of Law – Used to waterproof the courtyard, external stairs, open plant areas, lift over-run pits, and flat roofing areas.
Sydney's Barangaroo Development – Used Link-Seal pipe penetration seals during development
The design philosophy behind the Wolfin brand is completely self-sufficient waterproofing, and systems are designed to accept flexible structures and chemically aggressive environments. So whether your building is old or new, residential or commercial, inland or by the sea, if it needs protection from the elements, Wolfin is the trusted name in waterproofing.
Projex Group is the sole agent for Wolfin and can be contacted on 02 8336 1666 or via email.