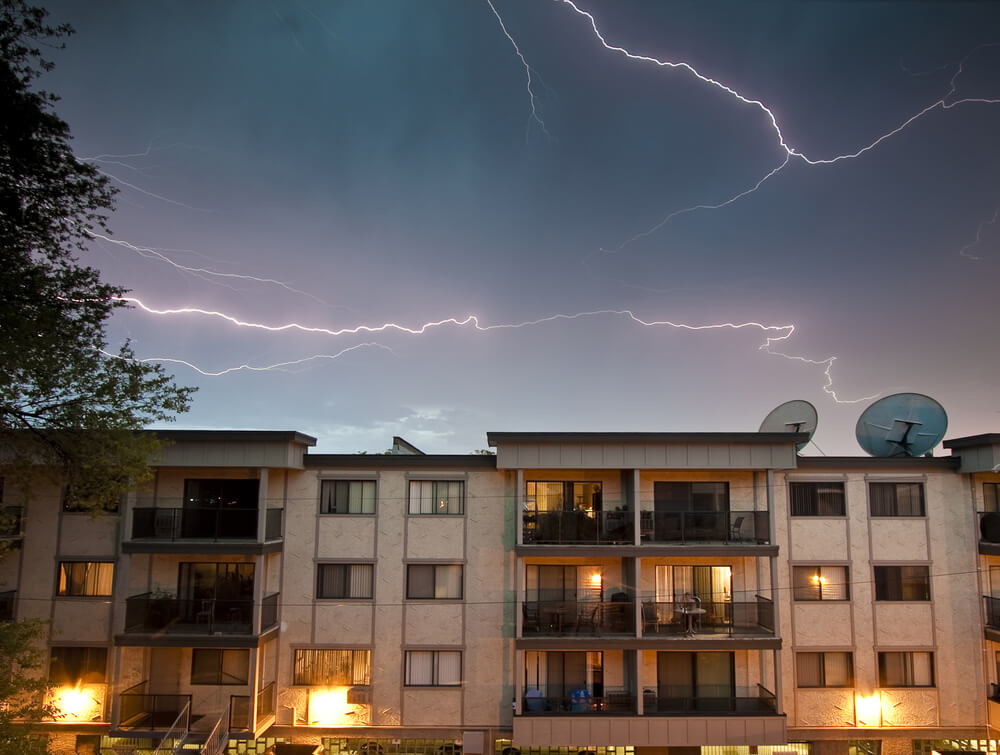 Do you know what to do if your strata property is damaged in a storm? The damage storms can do to an apartment can be very costly and repairing the damage may take weeks to complete. This could leave you without a home or one that's not convenient to live in while the repairs are being done. But luckily there are things you can to prevent storm damage, such as waterproofing your apartments.
Storms with heavy downpours, strong winds, pelting hail and lightning could make a tree fall onto the roof and create a hole where water can pour inside. Water may also flood a balcony and come into the property. Moreover, damage to TV aerials or gutters can expose the roof to water and result in further damage to the property's interior spaces. Water ingress could damage the carpet, furniture, cupboards, paintwork and even clothes.
To minimise insurance claims and inconvenience to owners and tenants, here are some things the owners corporation and landlord can do to reduce storm damages to apartments.
Waterproofing
Poor waterproofing of an apartment will be exposed in times of severe weather. As the name suggests, waterproofing is the process of making an apartment resistant to water. Without proper waterproofing treatment, there are many ways that water can penetrate the building and absorb into the external facade during storms. If waterproofing fails, it can cause what is known as concrete cancer – cracking throughout concrete structures, which is detrimental to the apartment structure. Check the inside of your roof – if there is light shining through, this indicates damage to the waterproof membrane of the roof. To prevent this type of storm damage, ensure that your apartments have adequately installed waterproofing systems.
Inspect the property
A strata property should undergo a specialist engineering inspection every 7-10 years so it can become resistant to extreme weather events in the future. An engineering inspection of the property will let strata owners and managers know about vulnerabilities that may exist, such as moisture in the walls that need waterproofing.
It's best to survey the property when the weather's at its worst as this can reveal potential risks of damage more than if it were assessed in good weather conditions. What's more, strata inspections can reduce insurance premiums.
Take out insurance and get a property valuation
The owners corporation should ensure that the property is insured for full replacement and reinstatement value. They must take out strata insurance to cover damage by storm, flood, and so on. Some loss of rent cover is also included in the policy.
Landlords, on the other hand, can take out landlords insurance to cover damage that isn't covered by strata insurance. This includes water and fire damage to the four walls of the interior of the property.
The property must be insured according to the most current valuation, which can be done by a professional property valuer. The strata manager should advise the owners corporation to get a property valuation every 3-5 years to make sure the property is always adequately insured, and to adjust their insurance cover accordingly.
Make preparations and maintain the property
Before a storm hits, the owners corporation should ask their strata manager, insurer or broker for a contact list of preferred tradespeople/repairers that they can call if they need to make emergency repairs outside of business hours.
The owners corporation should also properly maintain and keep the property in a state of good and serviceable repair. They must prepare and maintain the property in the following ways:
Fix leaky roofs, pipes, gutters, windows and doors.
Repair damaged roof tiles, pipes, vents and foundations.
Remove pooled water around air conditioner drains.
Clean out the gutters to prevent water from overflowing into the roof cavity.
Cut back overhanging tree branches that could fall and damage the roof.
Repair damaged grates in the carpark.
Use appropriate paint coatings and treatments on timber.
Install roof cladding and roof edges.
Repair cracked walls and ceilings.
Replace swollen or rotted timbers and de-bonded tiles.
Repair corroded metals, e.g. steel reinforcement, beams, door frames, lintels and flashings.
Paint and waterproof exposed wood so it doesn't invite moisture.
Waterproof roofing structures, gutters and cappings, as well as internal and external wet areas.
Replace old waterproofing materials and membranes.
Coat and seal masonry and concrete.
Apply compatible waterproofing joint sealants.
Get professional tradespeople to carry out any preventative works to the property.
Repair damaged items
The owners corporation must let their strata manager, building manager or emergency tradespeople know about the damages and ask that they attend the site to assess the damages. They should also quickly get quotes for repairs or ask their strata manager to arrange repairs.
Additionally, the owners corporation can make a claim on their insurance policy along with submitting evidence of the damages caused by the storm and supplying details of any quotes to their insurer. After the claim is lodged, the insurance company will send an assessor and/or a builder or contractor to the property in order to evaluate the damages and arrange repairs.
The insurance money can be used to dry or replace carpets, patch and paint the ceilings and walls, replace ruined kitchen cupboards and built-ins, and compensate tenants for damaged goods. Damaged roofs, gutters, downpipes, etc. must be repaired so that they can perform and function as efficiently as they did before they were damaged. A burst water pipe or hot water heater, a blocked drain or floor waste, or a defective waterproofing membrane can cause water to drip down from the ceiling and affect the apartments downstairs. The owners corporation should also repair these to avoid further damage. And serious roof leaks, flood damage, storm damage and failure of the water supply must be fixed within 14 days.
On the other hand, landlords should report damages to their strata manager or executive committee member and prevent further damages by ensuring that drainage holes are clear and putting towels down to reduce internal water damage. Landlords must also give the owners corporation's experts access to their property so they can repair any damages, as well as make a claim for internal damages under their home contents insurance policy.