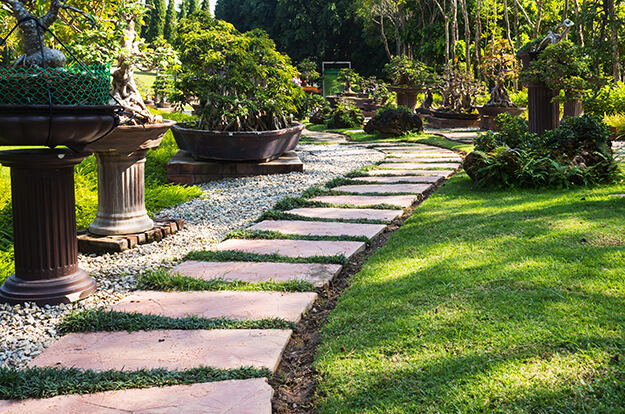 Landscaping and garden trends come and go, just the same as any other design trend. While in 2016 gardens were boldly minimalist and featured metallic and polished surfaces, in 2017 we're moving towards a more earthy design and feel, with natural materials, outdoor living areas, and edible gardens.

1. Outdoor living areas
The popularity of outdoor living spaces will likely continue in 2017. An outdoor living area is any outdoor space that you can use for recreation, enjoyment, or any other living purpose. Often these are set up as a seamless extension of the home, such as a dining patio onto which the kitchen opens, however they can also be enclosed or standalone areas, such as gazebos.
Great natural areas allow you to spend more time in your day outdoors. For example, if you live in an area with a cold climate, a sheltered outdoor living area with a fireplace can keep you and your family warm while you're spending time outdoors throughout the colder months.
Spending time in nature can boost well-being, relaxation, and health. When it comes to your choice of outdoor living areas, the options are endless. Depending on your lifestyle, anything from pools, patios, and decks, to outdoor kitchens, barbeque areas, and open-air dining and seating spaces can make wonderful additions to your garden and outdoor landscapes.
The thing to remember when constructing an outdoor area for your family to enjoy is that it is going to be exposed to the elements, and needs to be able to withstand a variety of weather conditions. Waterproofing your terrace, balcony, deck or roof will make sure you protect your outdoor area (and your furniture) from any water damage.
2. Edible gardens
The trend towards maintaining your own edible garden may be growing, as many people turn to living simpler lifestyles. Edible gardens provide you with healthy vegetables, herbs, and fruit at a low cost, and they can make stunning additions to the landscape. They're also an economical way to reduce water-intensive lawn space, and fill otherwise empty spaces with appealing visual features such as raised garden beds and herb plots.
An edible garden can be easily created & personalised in any way you choose. You can make it informal or formal with fixed boundaries, and compact or large in accordance with your space and style requirements.
3. Technology-powered sustainability
Sustainability is a major trend that continues to impact our lifestyles as well as design and landscaping. Used right, technology can drive improved sustainability and resource-management outcomes, helping you cut costs and save time at home. There's probably no better example of this than irrigation.
One of the growing trends for 2017 is technology-powered irrigation, where smart irrigation systems that go well beyond standard rain sensors are used to enable households to save more water. These systems can integrate weather data to automatically work out how much water to apply to your garden, and you can even manage your irrigation from your phone.
Projex's Wolfin and Cosmofin membranes also meld perfectly with this switch to more environmentally friendly and sustainable landscaping and gardening methods. Wolfin and Cosmofin membranes rate very highly with the Greenstar Building Council, due to the product's minimal impact on the environment. Due to the nature of its construction and the fact it's made of the highest quality PVC, Cosmofin and Wolfin are highly durable products that don't need replacing very often, and can be recycled at the end of their long life. Suitable for ponds, water features and any kind of water retainer, they're the safe and environmentally conscious waterproofing solution for your landscaped garden.
4. Naturescaping
There's alsoa trend towards naturescaping, or design gardens that complement or blend into nature. A naturescape garden might make extensive use of native species of plants, or otherwise utilise design elements that soften the impact of structures such as pergolas or sheds. It could be that little or no pesticides, herbicides, and fertilisers are used. Ultimately, the aim is to create a natural-looking space that's not only beautiful to behold but welcomes native birds, pollinators, and insects.
5. Green and natural materials
The growth of naturescaping is coupled with a shift to the use of organic materials. The demand for eco-friendly materials in landscaping are likely to grow, as many households switch to greener gardening and design practices.
Landscaping designers are turning away from geometric shapes and minimalist surfaces to the more natural and homely, such as sandstone, slate, brick, and timber. Popular uses for hardscaping include sun-dried tiles and wooden stepping stones. The overall trend is a movement away from the sleek and ultra-modern to a homier, DIY aesthetic in landscaping.
6. Dwarf shrubbery
Along with a movement towards smaller households and gardens comes a growing preference for dwarf shrubbery. Landscape designers are seeing an increasing number of requests for low-maintenance gardens, so many gardens are adding dwarf evergreen shrubs. The outcome is a lot of time saved on clipping and shaping shrubs, without compromising on aesthetic appeal – especially as it's easy to find decorative dwarf shrubbery that blooms, such as hydrangea.
7. Local and regional planting
Locally sourced food seems to be everywhere these days, and the hyperlocalism trend may very well reach the landscaping mainstream by 2017. There's growing interest in localism beyond native plants to endemic plants, which need to be sourced hyper-locally. For households, the challenge is to find native species specific to their region that align with their aesthetic plans.
8. No-mow lawns
Sustainability-conscious households are turning away from the traditional, manicured, water-intensive lawn to alternative turf seeds or blends that don't require much mowing (if any). These may be less water intensive as well, and they might require less fertiliser and pest-control products.
9. Colour blocking
One particular landscaping trend that you might be seeing in a garden near you soon is colour blocking. This is the use of discrete, high-impact blocks of colour to highlight spaces or framing areas. Examples include patio walls in a high-contrast colour or the use of outdoor rugs or curtains in an outdoor space.
10. Mixing the old and the new
Mixing the old and the new, different styles and eras, or applying a mish-mash style to your landscaping plans is another top trend for 2017. If you have a traditional garden, you can rejuvenate the space by integrating some modern elements. For those with modern gardens, the key is to bring in some bold yet traditional features to provide extra interest and contrast.
11. Play spaces for all ages
With the popularity of outdoor living areas, people are looking to spend more time outdoors. However, they're also seeking low-maintenance spaces where they can play. This is where the trend towards more play spaces – and not just playground areas for the kids – comes in. These spaces include pet and dog recreation spaces, dining areas, hammocks, and other novel play spaces. Game courts such as bocce courts often don't require special planning approval, so they're a popular way to make use of spare garden spaces.
Planning your landscape design for 2017
The focus on natural elements, as well as the use of green materials and smart technology are just some of the key trends for landscaping in the coming year. Projex's Cosmofin and Wolfin membrane waterproofing solutions are a great way to waterproof your new landscaped garden in an environmentally friendly and long-lasting way. Approaching your garden and landscaping design with a clear vision will allow you to cultivate spaces that are visually appealing, functionally fulfilling, and highly liveable.