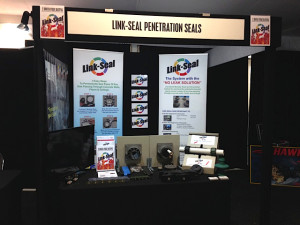 Projex Group showcased their Link-Seal Pipe Penetration Seals range at the most recent show organised by the Australian Water Association (AWA) in QLD. With our experts on-site, engineers and projects managers had access to the valued information as well as live demonstration on how to install the Link-Seals.
The conference was also the ideal platform to officially announce that the Model "T" Link-Seal series has been accredited a two-hour fire rating according to the Australian Standard 1530.4 and 4072.1. The Model "T" Link-Seal is composed of a high temperature silicone rubber block with specially designed carbon steel pressure plates with nut & bolt assemblies and is used when a fire rating is required in buildings, fuel / oil bunds,  tanks, etc.

The extensive range of Link-Seals can seal almost any size of annular space against gases, water, chemicals, flames, etc. Installation is very simple & the Link-Seals require no maintenance.
For more information: projex.com.au