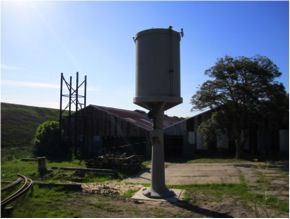 The historical Pillar Water Tank has been waterproofed with Wolfin Waterproofing System. Wolfin GWSK was chosen as the Waterproofing Membrane for the critical aspect of relining the inside of the tank and Andersal Engineering, a licensed Wolfin Applicator, carried out these works.
The Pillar Water Tank appeared on the proposed ILC (Intermodal Logistics Centre) site in 1918 to provide a watering station for steam powered locomotives. It comprises a cylindrical concrete tank and various concrete mouldings, mounted on top of a reinforced concrete pillar. The tank has a capacity to hold 4000 gallons (18,000 lt) of water. Research has identified that this is the only concrete pillar tank surviving from the NSW Government Railway System.

The preservation & waterproofing of the Pillar Water Tank is part of the upgrade of the Enfield Marshalling Yards.
The Wolfin Membrane Systems is ideal for this particular project as it's UV Stable & can be used in in underwater applications.
For any enquiries on the Wolfin Membrane System, please contact Projex Group on 02-8336 1666 or [email protected] or visit our website projex.com.au.