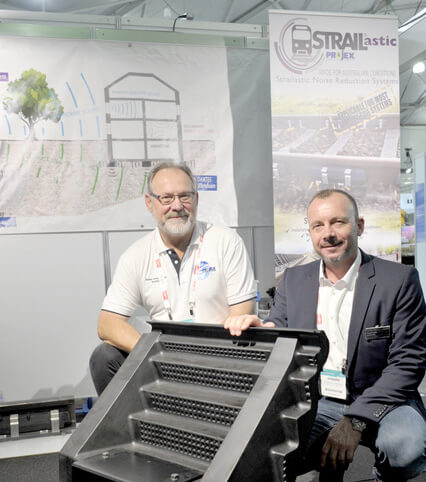 In 2017 Projex was proud to attend the Ausrail event at Brisbane Convention and Exhibition Centre. The Projex exhibitor stand was a hive of activity and we also welcomed guest speaker Andreas Goeschl to the event. Find out more about Projex and the Ausrail Convention below.

What is Ausrail?
Organised by the Australian Railway Association, Ausrail is the largest rail conference across Australia and Asia. Bringing together industry experts, influencers and some of the most prominent companies in the industry, it's an excellent opportunity to see what the future holds for the rail industry in innovative and forward thinking solutions.
This year, the Ausrail convention took place between the 21-23 November at the Brisbane Convention and Exhibition Centre.
Ausrail is supported by the following organisations:
Australasian Railway Association (ARA)
Institution of Railway Signal Engineers (IRSE)
Rail Track Association Australia (RTAA)
As part of the convention, Ausrail PLUS draws focus on digital innovation and the integration of people, products and services within the rail industry. Over 400 exhibiting organisations were in attendance, including Projex.
Who attends Ausrail events?
The typical Ausrail event consists of a mix of industry consultants, managers, engineers, account managers and directors. The Ausrail website supplies the following attendance data:
29% – General Managers & Directors
22% – Head of Engineering & Technical Leads
21% – Project, Production and Operations Managers
15% – Business Developer Marketing & Account Manager
9% – C-Suite & Managing Director
4% – Consultants, Advisors & Analysts
Its an excellent opportunity for all industry members to network and get up to date with the latest technical innovation.
Projex attendance at Ausrail
Projex was delighted to be among the organisations exhibiting at this year's conference. A strong crowd engaged with our exhibition stand where Projex showcased our leading rail products and solutions, along with guest speaker Andreas Goeschl.
Project Rail Solutions
Project is a leading provider in rail solutions. Our focus is on vibration and acoustic attenuation. During the 2017 Ausrail event Projex showcased industry leading products for both remediation and new rail builds. Learn more about our successful product range.
Projex Damtec Sub-Ballast Matting (SBM)
Isolation and protection matting suitable for all railway infrastructure and construction, including:
Heavy Rail
Heavy Haul
High Speed
Rapid Transit
Light Rail
SBM mats are primarily used for reduction of acoustic emissions and vibrations absorption. Projex SBM mats have been used in high profile projects like the Butler Extension of the Joondalup rail line and the Roy Hill Heavy Haul Rail Project. You can find a full list of case studies here.
Strailastic Noise Reduction Systems
Strailastic systems reduce noise emissions in modern transport systems like trams and urban rail through strategic implementation of rail dampers and acoustic panels.
Strailastic products are manufactured with skill and precision in Germany, providing uniform stability and elasticity in both new builds and remedial maintenance.
Strailastic light rail
For light rail builds Strailastic offers a German engineered product made from premium virgin rubber. The STRAILastic_s base pad wraps around the foot for the rail, providing effective dampening of acoustics and insulation against stray current.
Projex Guest Speaker: Andreas Goeschl
As part of the Projex contribution to Ausrail 2017, we were proud to welcome guest speaker Andreas Goeschl to the Ausrail convention.
As International Business Development Manager for STRAILastic_Rail & STRAILway Mr Goeschl has spent the past 10 years travelling the world working on rail noise attenuation and dampening solutions. His clients include both private business and government, and his areas of expertise includes both the design and deployment of STRAILastic products.
Mr Goeschl's experience was put to good use at the Projex stand, where he was available to answer any questions regarding Projex noise dampening solutions. It was a delight to have Mr Goeschl available. Below, we list some of the most frequently asked questions along with his answers.
STRAILastic_A INOX 2.0 Dampers:
What is the STRAILastic_A INOX 2.0 Damper?
The STRAILastic_A INOX 2.0 is a rail damper specifically designed for the reduction of noise emissions and agitation. The dampers comprise steel masses enclosed in an elastomeric polymer. Two dampers are positioned and clamped either side of the rail centrally between the sleeper bays. The INOX 2.0 dampers have been custom made for Australian conditions.
Do we have to remove the dampers when doing maintenance for example tamping, ballasting, rail grinding, ultrasonic testing, etc?
No, the STRAILastic_A INOX 2.0 rail damper present no impact on standard rail maintenance work.
mSW – Mini Sound Wall
How does the mSW reflect or reduce rail noise?
The mSW robust but elastic rubber compound absorbs the noise emitted from wheel and rail contact and deflects that noise back to the ballast.
Does the mSW works with most rail networks and where does it work best?
Yes, the mSW is suitable for all rail networks and fastening systems and can be custom made for most sleeper types. They are designed to provide optimal noise absorption for ballast tracks, slab tracks, embankments, bridges and other rail infrastructure.
iP Panel (Infill Panel):
What makes the iP Panel (Infill Panel) different from other noise barrier walls and how does it reduce noise?
The unique re-inforced rubber of the STRAILastic_IP panel surface is designed to absorb the noise of passing trains. The inclination of the absorber fins will absorb the noise and then redirect the noise towards the ballast. With most other noise walls the noise will only partially deflect or bounce around until it eventually escapes.
Can it be fitted on any type of railing?
Yes, as long as the railing or structure is strong and secure enough to handle the dead weight of the STRAILastic-iP panels. (Please contact Projex Group for additional information regarding custom made fastening systems or methods)
TOR Systems (Top of Rail)
What sets the STRAILastic_TOR System (Top Of Rail) apart from its competitors?
The STRAILastic_TOR System is a one-piece hot vulcanised, UV and ozone resistant chamber filling element which reaches up to the top (surface) of a rail. STRAILastic_TOR Systems can be custom made for your individual design. It's one piece tongue & groove system that doesn't need any glue to be fixed to the rail. It also doesn't require a joint sealant to fill the surface gab. The rail foot cover is a one-piece, reinforced system made of premium virgin rubber which ensure a continuous and elastic support. Naturally, the STRAILastic-TOR systems provide excellent stray current insulating.
How does it fit around tight curves?
Due to the double hot vulcanisation production process of the STRAILastic chamber filler elements, it fits without difficulty to tight curves. In actual fact the profiles are more flexible than PU-bonded profiles.
STRAILastic_GRS
How does the STRAILastic_GRS system speed up construction time?
The STRAILastic_GRS track section base plate is designed to fast track the installation of grooved rails and STRAILastic-TOR systems.
STRAILastic_GRS allows you to fix the track section in position without having a complete level substrate. You can quick and easily adjust the level of the track in a way that the supporting slab can be concreted underneath the track. Due to this construction type there is no need for a rail bottom casting. This reduces installation time and costs significantly.
(Please contact Projex Group for more technical information and references on ground breaking "Green Track Systems" and the GRS system)
Projex is moving forward
As a leader in rail attenuation and dampening solutions, Projex is moving forward with a number of exciting new projects. Even if you missed our stand at the Ausrail Convention, you can still find out about our innovative range of rail solutions. With options for both remedial and new builds, you can find our full range of rail services here. Check them out and discover the Projex difference today.