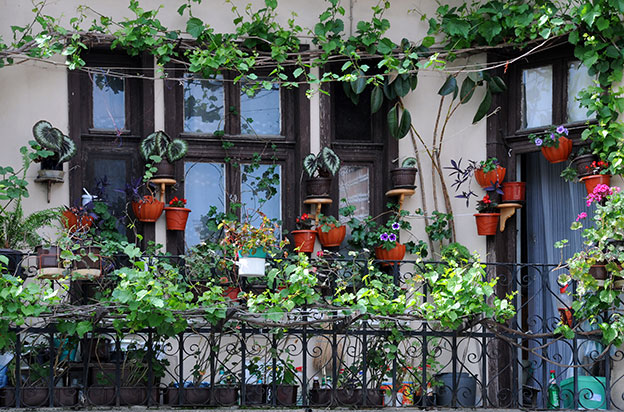 More and more people are living in apartments – especially in the hearts of our cities. These are often the only affordable way to enjoy the convenience of living close to work or other facilities, and enjoy the vibrant inner-city lifestyle on evenings and weekends.
The downside to this kind of living is that gardens are out. For most living in apartments, the only outdoor space is a balcony. The good news for those with green thumbs, however, is that there is actually an awful lot that you can do with even the smallest balconies, to give you a garden retreat from the city heat.
1. Green the space
It's likely that your balcony uses a tiled or concrete floor. You won't be able to grow real grass on this, but what you can do is lay down an imitation turf rug. Why would you do this? Because it creates the visual impression of a living garden and, when coupled with real plants and outdoor furnishings, creates the garden atmosphere that you'll be looking for.
2. Keep furniture to a minimum
Because balcony space is quite limited, if you're going to create the impression of a vibrant, airy garden, you're not going to have much room for furniture. We recommend a small table and chairs combo, to give you somewhere to enjoy the space, will be more than enough. Leave the rest of the space for plants and pots.
3. Make use of the railings
Continuing our quest to make good use of space, railings form the perimeter around your balcony, and you can be clever about making use of those to increase the space further. Hanging small pots on the outside of the railings allows you to introduce the colours of flowers and other small plants into the space while saving the main balcony space for more substantial plants or trees.
4. Make sure you pick plants that can survive on the balcony
Nothing ruins a look more than dead plants. There are a couple of things to consider when selecting plants for your balcony:
It's likely that there won't be as much sun. Most balconies only enjoy sunlight for part of a day, so make sure the plant is hardy enough for shady conditions.
It should also be a plant that can tolerate dry conditions – if there is someone living above you with a balcony of their own, then your plants won't get much rain, and balconies tend to experience more windy conditions – especially in the wind tunnels that tend to get created in cities. Be sure to have the plants watered a couple of times per day, and consider getting an automated watering system to help you look after your garden when you're out and about.
5. Consider growing a little vegetable and herb garden
A satisfying alternative to the traditional small trees and flowers that people use to decorate their balconies is to use the space to grow some vegetables and/or herbs. You can grow a surprising amount of these in a small space, and in addition to giving you a new hobby and activity, you'll help to cut down on your food bills a little. Arraying a couple of planters around the balcony will each allow you to grow as much as a dozen plants or enough mint, coriander, or parsley to last you for weeks.
6. Build some shelves
Use the walls on either side of the balcony to install a couple of rows of shelves, and then place decorative pots with plants on each of them. This is another highly space-efficient way to pack a lot of colour and greenery onto your balcony, and is certainly more visually appealing than a ugly, weathered wall.
7. Don't forget decorative statues!
Most gardens also make use of decorations to enhance and complements the plants – statues, lanterns, bird feeders and fountains are all common garden objects, and many of those will also fit in with the décor of your balcony, to continue to enhance the illusion that it is a "full" garden.
8. Lighting is important too
After all the work that you've put into creating the garden, naturally you're going to want to make good use of it, and a well-lit balcony makes for a lovely summer retreat. Hanging lights off the ceiling and on the walls is a good way to start building the ambiance, but also consider a candle lantern for the outdoor table, so you can kick back with a good book and enjoy that summer evening breeze.
So many people with balconies don't realise how much can really be done with the space. Some creative thinking and an understanding on what does, and does not work, for the unique climate of your particular balcony space is all that you need to really enhance your apartment lifestyle, and feel like you're getting the full garden experience despite living in a concrete block. For more information check out our great guide on designing and building your balcony garden.