Where STRAILastic Dampers and Panels can be used?
STRAILastic_A INOX 2.0 dampers are used to reduce noise from tracks running through residential and/or other urban areas as well as across steel type bridges. It is engineered with extremely durable fastening rustproof stainless steel fixing clips and is suitable for all common types of rail networks and superstructures.
In many cases, STRAILastic_Infill Panels have been bolted to handrails on the tops of the ballast walls on bridges, but it can also be used alongside of the track where structures can be retrofitted if necessary.
As for the STRAILastic_Mini Sound Walls, they are suitable anywhere alongside of the track.
How to Install STRAILastic_A Inox 2.0 Dampers?
Click here to download the installation instructions manual
Installation is carried out in a quick and cost-effective manner using STRAILastic_A assembly aids, regardless of weather conditions.
The system can be installed safely during suitable track access intervals as well as during on-going operation (live railway), provided that train breaks (time window) are longer than five (5) minutes between access and vacating the track.
The STRAILastic_A INOX 2.0 absorber units do not inhibit track maintenance operations and are visually unobtrusive. The units can be re-used when rails are changed.
The STRAILastic _A INOX 2.0 system does not interfere with mechanised ultrasonic rail detection activities.
Temporary removal for rail welding work is trouble-free and possible at any time. There is no need to dismantle the elements when tamping and/or rail grinding the tracks. Control and/or survey work of rail fastenings are not affected or hampered.
Quick and simple handling
Maintenance-free > no follow-up costs
No interference with track maintenance operations
Environmentally friendly with uncomplicated installation
Permanent fastening with stainless steel clamp
Step 1 – Access to track
The system can be installed whilst trains are running (i.e. on a live railway).It is unlikely that a satisfactory rate of installation will be delivered with intervals between access and vacating the track of less than 5 minutes.
Ideally, work should be planned to provide clear periods for laying out the absorbers and clipping up on to the rails with teams working on the following production sequence.
Step 2 – Preparation & Installation
Begin by cleaning the relevant surfaces
Remove scale, loose rust and dirt from the rail profile using brushes, pressurised water or air using appropriate precautions and appropriate PPE equipment
Clear a gap of approx. 40 mm between the rail foot and ballast for a smooth installation process.
Transport the STRAILastic_A INOX 2.0 vibration-damping absorbers to the installation site
Unload by hand (each absorber weighs approx. 7 kg and is delivered on pallets, weight per pallet approximately 1 tonne).
Note: Have the site clearly pre-marked by the client/railway operator and identify sleeper bays where absorbers are to be omitted (from one or both faces of the rail profile), or modified to accommodate welds, earth bonding, etc. to ensure rapid installation of the system.
Apply the STRAILastic_A contact coating (black) onto the rail contact areas (to the rail foot and the rail web) using a paint roller.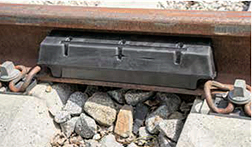 Place the STRAILastic_A INOX 2.0 absorbers into the installation position on the rail profile (normally located centrally between adjacent sleepers) and press it in with left-right rocking movements.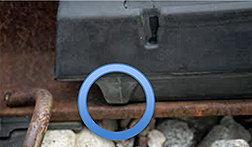 When the indicator (see circle) is vertically flush with the rail foot the absorber should be in full contact with the rail profile, to the specified detail.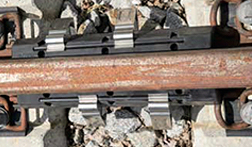 For each STRAILastic_A INOX 2.0 absorber, normally one on each side of the rail, fit two fastening clips into profiled grooves on each absorber, making sure that the clips are evenly spaced and there are clear gaps between all 4 clips before springing them in to place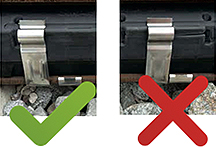 Important check – the opposing clips must not touch each other!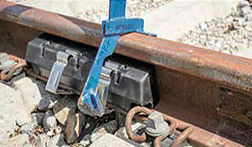 Afterwards, use the installation lever arrested on the railhead and push the clamps through under the rail foot and bring them into their final positions.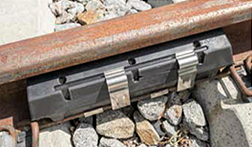 Final position of the fastening clamps on the side of the absorber.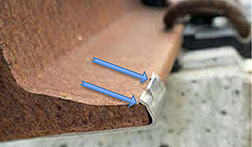 The final position of the fastening clamps is correct if the two lateral straps on the clamp enclose the rail foot completely.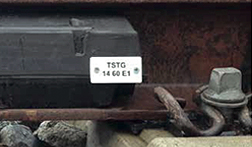 (Optional – Depending on rail infrastructure operator/ owner) when installation is completed, fix the batch/ job number labels to the absorbers, as required by the client. Typically this will be with self-tapping screws or 'gun'-fired staples.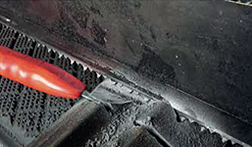 If required, the length of a absorber can be reduced at each end by a strict maximum limit of 30 mm (using a low speed cutting tool – typically a hand saw or powered (reciprocating) equivalent).This may be necessary to accommodate: weld joints, some rail fastenings, deviations in sleeper spacing or electrical bonding connections.
Step 3 – Installation Time
The time needed for installation depends on the individual conditions on site. However, the following can be used as a guide: A team of 12 persons (3-4 installation tools) can do approxamitely100 – 150 metres of track in one hour (no train break intervals, depending on the train schedule). Early planning in having the material components on site would speed up the process.
Step 4 – Grinding of Rails, Reprofiling, Tamping and other Track Maintenance
It is not necessary to remove STRAILastic_A INOX 2.0 vibration damping absorbers when carrying out rail grinding, tamping, maintenance of track, ultrasonic detection testing, measurements and checks or most other types of track work including use of ballast trains & ploughs.
Step 5 – Selective Removal / Disassembly
There are some track repair and maintenance tasks, which require removal of the STRAILastic_A INOX 2.0 absorbers.
5.1 – for rail welding, rail breakage
STRAILastic_A INOX 2.0 absorbers can withstand short and localised high temperatures, as normally expected with rail profile rebuilding and re-profiling. For repairing rail breaks or build-up welding on a larger scale, the absorbers must be removed, and the procedure is described in 5.2.
After completing the welding work, the removed absorbers may require adjustment to the new track geometry and re-installed according to Step 2 – Preparation & Installation.
5.2 – DisassemblyTools for removing STRAILastic_A INOX 2.0
The clamp is pushed down with the backside of the installation tool and unlatches.The STRAILastic_A INOX 2.0 absorber can be levered out with the foot of the installation tool.


5.3 – Reassembly
Refer to sequence Step 2 – Preparation & Installation and repeat assembly process.