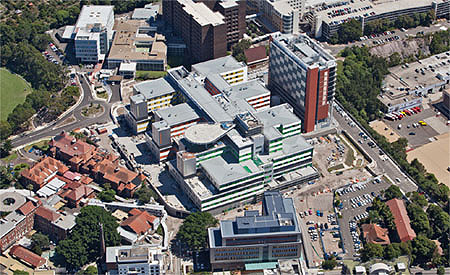 Redevelopment Community and Health Services Project
Royal North Shore is one of Sydney's oldest and most respected hospitals, which provides world-class research and commits to educate the health professionals of the future. The NSW Government is investing $1.1 billion into the redevelopment of the Royal North Shore Hospital to respond to the needs of an ageing population, by creating dynamic, contemporary facilities to support our high standards of health care.
The centrepiece of this major project is the new Acute Services Building and that is where the Wolfin Membrane System has been specified and installed.
The waterproofing works are a very significant stage of the redevelopment project.
The Wolfin GWSK Waterproofing System has been installed on the critical areas of the Royal North Shore Hospital – over the electrical and plant areas on the Emergency and main Ambulance Driveway. The Wolfin GWSK self-adhesive membrane was installed prior to the application of 3 layers of asphalt. The garden beds were also waterproofed using the Wolfin Membrane System (FLL–System Test-Certified Root Proof). In total, over 3,500 square metres of Wolfin were used in this project.
Through the years, Wolfin Membranes has been applied on many hospitals in Australia on such areas as Roofdecks, Plant Rooms, Podium Decks, Terraces, Tunnels, etc.
In Sydney these installations include St-George Private Hospital, Prince of Wales Hospital, Sydney Childrens Hospital, Royal Hospital for Women, Liverpool Hospital and Royal Prince Alfred Hospital.